Some of the older and more long standing residents of our village may remember Tom (Thomas Gordon) Willans (see Archive section). Tom was a true 'gent', a centenarian and passionate about Bardsey.  Indeed the Parish Council some years ago were fortunate in enabling the acquisition of the plot of land at the junction of Wood Lane and the A58, subsequently named Willans Wood in permanent memory of Tom.
Earlier this year the Parish Council were contacted by a Mr Jos Punie who resides in Wintershoven Belgium. Jos was enquiring if the Parish Council were aware of a contact detail for a Willans descendant. It transpired that Tom and his wife Edith's son Sgt. Alec Gordon Willans was a Co Navigator member of the crew of a Wellington Bomber no BJ606 PH-S  which crashed during World War 2 operations over Wintershoven, now a suburb of the municipality of Kortessem-Belgium.
All crew members including Alec Willans tragically perished in this crash.
Jos was keen to make contact with the Willans family to invite them to the 75th anniversary of the incident at which a commemoration would be held together with the unveiling of a stone plaque to mark the Wintershoven's respect for the sad loss of the air crew and their undoubted courage.
Whilst the Parish Council were able to provide Jos with details of the last contact, regrettably his   communications drew a blank.
The Parish Council have now been contacted again by Jos who kindly provided photographs recording the commemoration ceremony see below.
On behalf of the Village the Parish Council wish to express their thanks to Jos and his colleagues both for making not only this permanent tribute to the brave souls of bomber no BJ606 PH-S but also by doing so keeping the good name of Willans 'alive' for ever!
Tom would be might proud of this heartfelt tribute by the folks of Wintershoven.
Photos of the ceremony are as below:-
From left to right: Colonel Bijnens from the Belgian Air Force, Tom Thijsen (Wintershoven's  Mayor), Ils Camps (master of ceremony), husband and daughter from the Australian Ambassador, Ms Caroline Millar, Ms Millar herself and SLt Fred Warren-Smith als representative from the British embassy.
On this picture you can see Nicky Cooper, grand niece of co-pilot  Jack Johannesen and Jos, during the unveiling of the memorial.
The local brass band.
The Last Post, during the unveiling.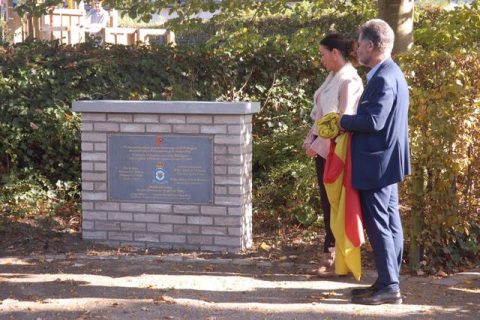 The memoriam
The plaque inscription.
October 2017.